It's been months since I wrote any sort of beauty post on my blog, and since then, I have found loads of new favourites to love and rave about! Without further ado, here are some of my recent loves.
Boots Vitamin E moisture cream 50ml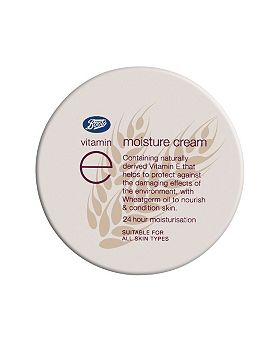 I bought this during the warm summer as my skin was getting very dried out from the heat and even brought it with me to Cambodia. I have dehydrated skin which can get quite congested, so I was delighted when this cream hydrated my skin and didn't cause any outbreaks. It even managed to make quite an improvement to the red, scaly skin around my nose and I even found my fiance using it on his ezcema. It costs a whopping €3.99 and it's a cheap addition to anyone's vanity table.
L'Oreal Paris GlamShine Stain Splash in Juliet
The famous YSL Glossy Stain dupe made a welcome appearance in my makeup box last May when I picked it up for the vintage shoot. It is a long-lasting stain which wears quite well, I think I get around 8 hours from it and doesn't transfer while eating, drinking and kissing. My favourite shade Juliet looks cherry red in the tube and applies as that shade on me, but I have seen reviews which show it as a truer red or even an orange red, so do swatch it before buying.
Could this be my perfect go-to red lip? It's a definite maybe, it certainly ticks a lot of my boxes- flattering shade, durability and non-transference.
Nip + Fab Glycolic Fix Exfoliating Facial Pads 
These chemical exfoliant pads are the best thing I have added to my cleanse/ tone/ moisturise routine in a long long time. These pads contain glycolic acid to retexture and resurface your skin and my absolute favourite ingredient for dehydrated skin, hyaluronic acid, to help rehydrate your skin. I run one pad at night over my chin, nose and forehead after cleansing and then gently swipe my cheeks and neck with the remainder.
While they are expensive at €17.99 in Boots, my skin has never looked better with less congestion and a much smoother feel to my skin. I did find that they caused a slight outbreak at first but this is normal with glycolic acid, apparently.
What are your recent beauty loves? Any hates?